Situated in Paris, on the corner of rue de Buci and Rue de Seine, is one of PAUL's truly magical locations. Long established in this area - so delightful for strolling around - PAUL rue de Buci has recently undergone an elegant refurbishment. The work was entrusted to interior and stage designer Emilie Bonaventure. With the vision of a chic and gourmet Parisian in her head, she set about making this beautiful space still more enchanting, by successfully blending original elements discovered decades ago, with more contemporary touches.
On the bakery side of the store, a bright shade of green reminiscent of budding wheat, adorns the ceiling and woodwork, making a pleasing contrast with the iconic black façade. Just behind the counter, bakers, pastry chefs and cooks work throughout the day preparing their products, in full view of customers.
On the dining room side, PAUL's traditional black and white chequered floor extends into an oak parquet floor as elegant as the most beautiful of Parisian salons. Here, the typically Hausmannian woodwork and mouldings have been decorated in different shades of blue. These comfortable rooms are available for private hire in the evenings for dinners or cocktail parties.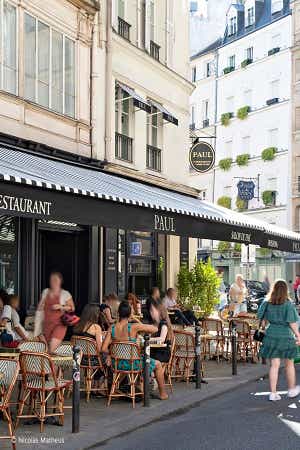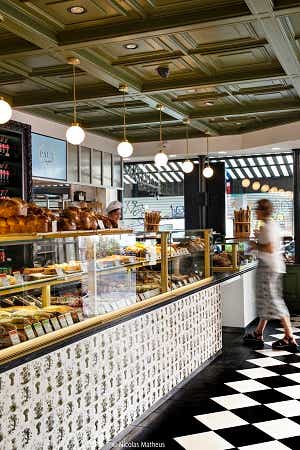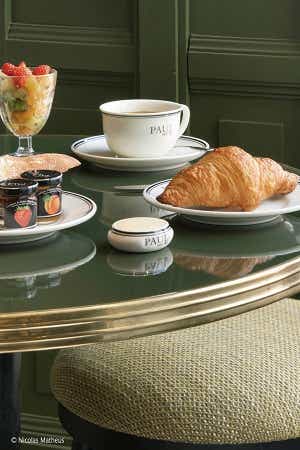 Reflecting the chic bistro spirit that characterizes the district, the renovation of the space also brings a brand new gourmet menu to the site. Hamburgers, main course salads and sharing platters can now be accompanied by a glass of sustainably sourced wine, or a refreshing beer brewed in Paris, served into the evening.
Also not to be missed is the outdoor terrace, ideal for sunny gourmet breakfasts. PAUL rue de Buci, already famous for its crispy pure butter pastries, has enhanced its Brunch menu with the addition of savoury tartines, assorted birchers and Eggs Benedict.
PAUL rue de Buci
77, rue de Seine
75007 Paris
Information: +33(0)1 55 42 02 23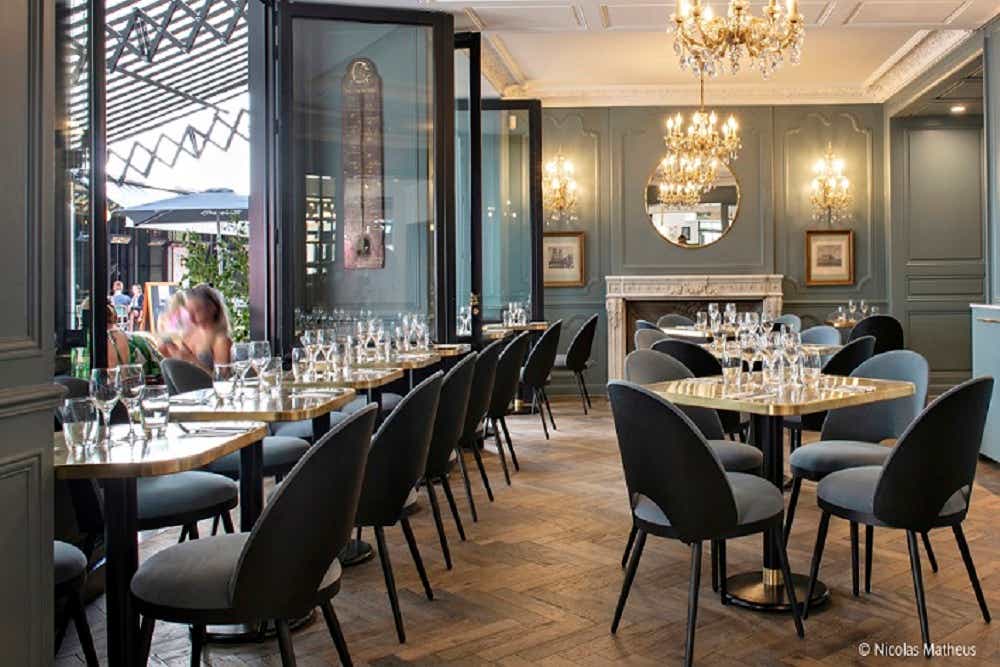 Photography: © Nicolas Matheus