In toast, slices, or sandwiches, from the soft crumb to the crust, bread is one of the pillars of our meals and therefore our balanced diet. A source of plant-based proteins, complex carbohydrates, and fibers, bread has more than one nutritional advantage. That's why, from field to kneading, PAUL is committed at every step to offer you pleasurable, healthy, and high-quality bread. We further strengthen this commitment today by highlighting the most nutritionally beneficial bread with a "Bien Manger" indicator, symbolized by a small blue apple. We explain everything to you...
The basics of quality bread from a nutritional balance perspective. And from PAUL!
Bread is a simple product: flour, water, a little salt, yeast, or sourdough... Each ingredient plays a role in our balance, so it is essential to make the right choices.
Let's start with the flour. As a first instinct, prefer more rustic bread over so-called "white" bread with a milky-colored crumb! Indeed, the more refined the flour, the fewer fibers and nutrients it provides. A significant portion of these elements will have been removed with the protective outer layer of the wheat grain, known as "bran." A glance at the crumb of your bread is a first clue: is it a milky white, cream, light brown, or dark? And there is a simple way to confirm it. Look for a "T" symbol on the price tags of bread... The larger the number next to the "T," the closer you are to whole-grain flour, considered the most beneficial for health! At PAUL, we knead our bread using only T65 flours (for example, for our baguettes PAUL, sesame or poppy seed baguettes), T80 (country bread...), or T150 (whole wheat bread!) which are richer, especially in fiber, than the commonly used T55 flour.
That's it. The more we retain the outer layer of the wheat grain, the better the nutritional value of the flour... and the more we should avoid post-harvest pesticide treatments to preserve the wheat! This is obviously one of the commitments of the farmers and millers who have joined the "French and responsible wheat supply chain" created by PAUL.
Finally, while cereals are the main component of bread, we must be wary of a true false invisible friend... salt! As an ally of taste and bread preservation, excessive salt consumption can also have a negative impact on our health! That's why, since the PNNS2 (National Nutrition and Health Plan), PAUL has committed to reducing the salt content of its bread. Less salt but not less flavor because sourdough, slow fermentation, the choice of flours, slightly toasted cereals, and, of course, delicious seeds (poppy, sesame, pumpkin...) are all natural sources of taste. Without added salt.

To go further, PAUL has created the "Bien Manger" label.
A simple guide to assist our customers in making their food choices by indicating the products with the best nutritional balance in each category: sandwiches, desserts, and bread. Visible on price tags, product packaging, or our restaurant menus, this label means that the product has received one of the top two ratings on the Nutri-Score scale*.
What are the criteria for such classification? It involves evaluating the quality of nutrients in each recipe. On one hand, it considers nutrients with a positive impact: fiber, protein, fruits, vegetables, nuts, olive oil, etc. On the other hand, it takes into account nutrients that, when consumed excessively, are detrimental to health: saturated fats, sugar, salt, and calories. The calculated score allows products to be classified from A to E. At PAUL, the "Bien Manger" label with its little blue apple simply indicates that this bread has received one of the top two ratings on the Nutri-Score: A or B!
And good news, that's the case for the majority of our breads :-). Among them are your favorite baguettes (PAUL baguette, sesame seed or poppy seed...), our iconic Platine bread, our country-style bread, and of course, our whole grain and seeded breads! Even better, we ensure that our specialty and creative breads also receive the "Bien Manger" label. This includes the delicious Nordic bread, the turmeric and black sesame bread with its characteristic yellow crumb, and the spelt bread.
*The Nutri-Score (a trademark of Santé Publique France) is a calculation method developed by Professor Serge Hercberg's team based on the FSA (Food Standards Agency) score.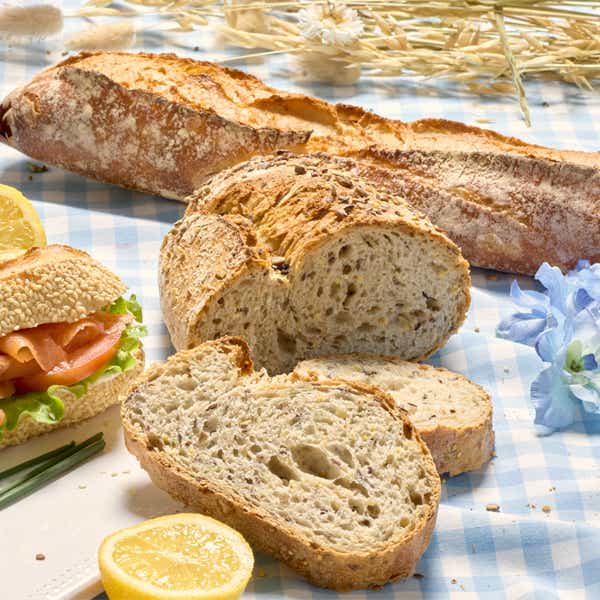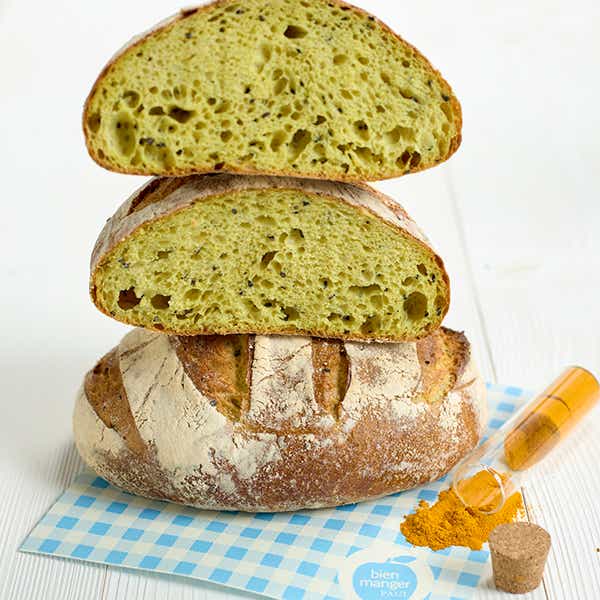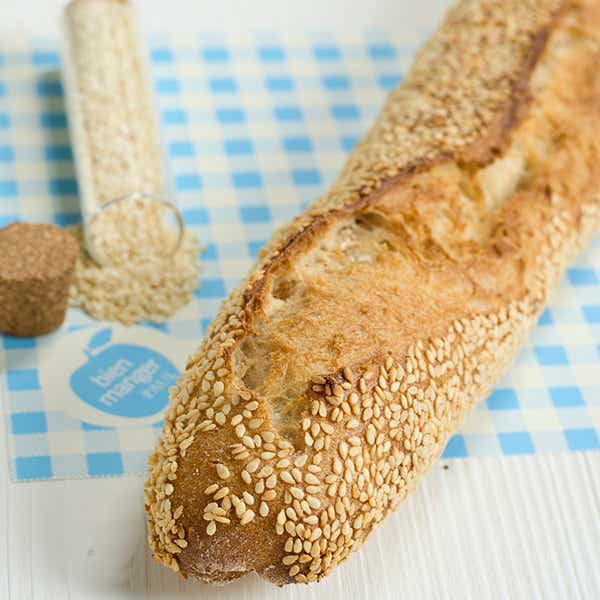 For a balanced break, consider snacks... made with bread!
Bread is a very indulgent alternative to pastries, cakes, and chocolate bars, which are often higher in fat and sugar. It's just a matter of remembering! There's the irresistible pleasure of nibbling on a crusty piece of bread straight from the bakery... one of those tiny pleasures that shouldn't be overlooked. For a sweet break, PAUL will never deprive you of the delights of a buttery croissant or the moistness of a chocolate cake... But we also offer delicious "benoîtons," specialties made with whole grain or regular bread and filled with chocolate chips, turmeric, dried fruits, figs, and more. It's a perfect opportunity to vary your treats by trying the muesli benoîton or our Nordic benoîton. All of them have received the "bien manger" label.
At home, a beautiful slice of bread topped with cottage cheese and fresh fruits makes a perfect, indulgent snack without any guilt. Because let's not forget, while bread itself, consumed in reasonable quantities, doesn't cause weight gain, the same cannot always be said for the cold cuts, butter, or jam we put on it! And in that case, our blue apple might turn red ;-)