How we love those plump, golden, soft, fragrant madeleines, with their shell shape, their characteristic 'bump' and their warm, inviting colour. They are, quite simply, unique, one of those little pleasures we're mad about. But do you know the true story of this little treat that became a star thanks to a certain Marcel?
From Saint Jacques de Compostelle, via Lorraine, a recipe that travelled far on its journey to becoming a great classic
Let's begin by examining the madeleine's characteristic shell shape. This can be attributed to the tradition of offering brioches and little cakes in the shape of scallop shells (Coquilles St. Jacques in French) to pilgrims en route to the famous holy shrine at Compostela. As for the name of this famous cake, it is usually attached to a talented cook, but which one? There is more than one candidate. It could be a certain Madeleine Simonin, cook to a cardinal in Lorraine (the area which is also home to the famous quiche Lorraine) who loved these sweet delicacies offered to pilgrims. Or it could be Madeleine Paulmier, a servant who came to the rescue of a noble feast by hastily preparing a recipe of her grandmother's at the last minute. If the latter, the story took place in the castle at Commercy, the residence of the Duke of Lorraine, Stanislas Leczszynksi, the exiled king of Poland. The incumbent cook suddenly storms out in the middle of a great feast, leaving the duke without a dessert and with no recipe to create one. A young cook suggests creating little cakes which need only simple ingredients already available in the kitchen. You can imagine the rest – the little cakes enchant the guests, the Duke names them in honour of his saviour, and Commercy becomes the world capital of the madeleine! A bit of a habit for the Duke, as it turns out, as he not only gave his name to the famous square Place Stanislas in Nancy, said to be one of the most beautiful in the world, but this Polish gourmet was also involved in the creation of the rum baba, another great classic of French patisserie!
In any case, Stanislas certainly contributed to popularising madeleines beyond Lorraine, because he was, in fact, the father of the Queen of France, wife of Louis XV, to whom he would send these sweet delicacies, and she, in turn, introduced them to the Court. In the nineteenth century the railway also played its part, as the ladies of Commercy used to sell their madeleines to the travellers who stopped at the station in their little town.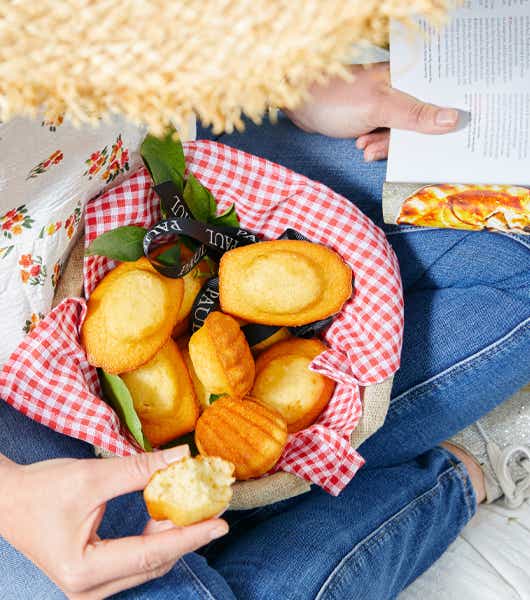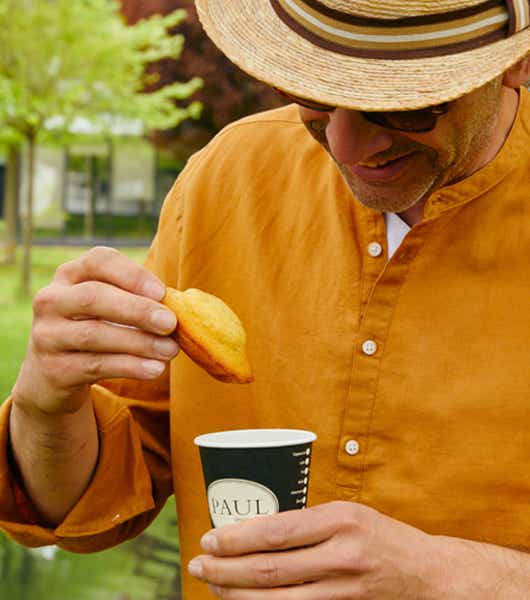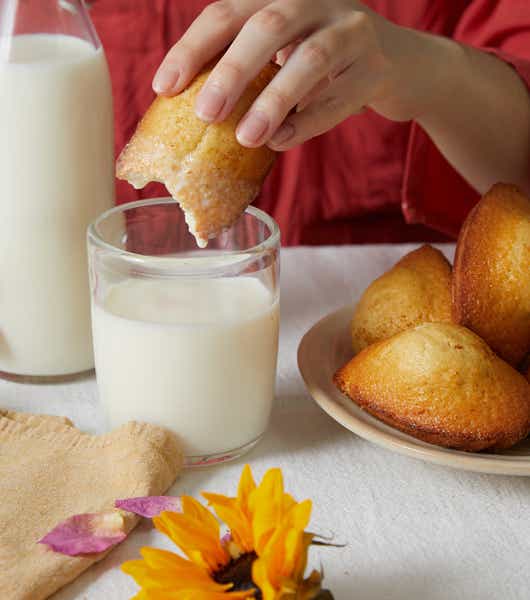 So what does Marcel Proust have to do with it?
In his 1913 novel "Du Côté de chez Swann", Marcel Proust wrote "Je portai à mes lèvres une cuillérée de thé où j'avais laissé s'amollir un morceau de madeleine . . . " ("I brought to my lips a teaspoon of tea, in which I had left a small piece of madeleine to soften…"), thus creating the enduring myth of the Madeleine. Proust took the Madeleine beyond simple indulgence, turning the little cake into the symbol of daydreaming, of immersion in childhood memories, capable of plunging us into sweet nostalgia with a simple bite. This magic power might have escaped Proust, as it's said that before choosing the madeleine, he considered dipping toast or a simple biscuit in the famous tea. French literature, not to mention French pâtisserie, would have been the losers! Today, the expression is universal, and everyone has their own 'Madeleine de Proust' that transports them back into the comforting memories of childhood. From the grumpy food critic Anton Ego (played with aplomb by the late, great Peter O'Toole) in the Pixar film "Ratatouille" who is softened and transported by a simple ratatouille, to best-selling novelist Muriel Barbery's "Une Gourmandise" (following another irascible food critic's search for simple perfection before he dies), we have the proof: it is simplicity that is the most evocative of tastes – a definition that suits our PAUL madeleines perfectly.

PAUL madeleines, the sweetness of childhood
Soft, golden blonde, nicely rounded, our madeleine is delicately flavoured with vanilla, lemon and bergamot. You can dip it in tea, as Marcel Proust would have done, nibble it on the train, as 19th century travellers would have done, or serve it with jam as a snack.
And since we are full of happy childhood memories, we have also created a rather special madeleine-Carambar, filled with chocolate caramel spread, just like the favourite candy of French children. For those of you who don't know this famous French sweet, the Carambar is a chewy chocolate caramel sweet, invented, allegedly in error, in 1954, and hugely popular ever since. It is famous for each sweet being accompanied by a truly terrible joke, or 'blague' – rather like British Christmas crackers – but we assure you, our madeleine-Carambar 'n'est pas une blague!' We hope you enjoy it, and we wish you happy memories.