Given that we at PAUL are, after all, a very French business, it's rare to be greeted by a façade proudly displaying a love of salami, Parmesan cheese and . . . oh hang on, champagne? And mama mia! - what on earth are those strange metal 'fangs' hanging from the ceiling? These curious details provide clues to the building's past, and play a role in preserving the collective memory of the neighbourhood. As with other branches of PAUL in Paris, such as the famous 'Aux Tortues' building on Boulevard Haussmann, we are committed to preserving and enhancing the characteristic elements of locations which, after other and different lives, are reinvented as branches of PAUL. Therefore, we felt a little flashback to the past of 49 Avenue Franklin Roosevelt was in order . . .

"Comestibles and Fine Wines"
It was in the early 1950s that the Raggi family opened a high-end trattoria on the corner of Avenue Franklin Roosevelt and Rue de Ponthieu, a 'Comestibles and spirits' shop, as delicatessens were often called in those days. The shop is richly decorated, in harmony with this prestigious quartier of Paris. Passers-by can't help but be drawn to the exterior façade with its sublime stained glass windows singing the praises of cheeses and charcuterie imported from the different regions of Italy. There is also plenty of room given to colourful depictions of various champagne houses, wines and other spirits – for a very French touch! Inside, products were presented on gleaming white marble shelves, whilst salamis and hams tumbled in an exuberant cascade from the ceilings – hence the very robust, if slightly sinister, metal hooks we've already mentioned.
2001 arrives, and Maison Raggi is succeeded by Maison PAUL. Prosciutto and pasta give way to the finest flowering of the Parisian baker's art: crusty baguettes, crispy croissants, chocolate eclairs , lovely palmiers and meltingly delicious macarons . The original décor is restored. The stained glass windows and the marble shelves have already been restored – the latter used to house a vast collection of flour jars which were, unfortunately, damaged by some clumsy customers over the years! Even the rows of metal hooks in the ceiling, perhaps confusingly out of place in a patisserie tea room, are retained. And PAUL Franklin Roosevelt is born. Che Bello!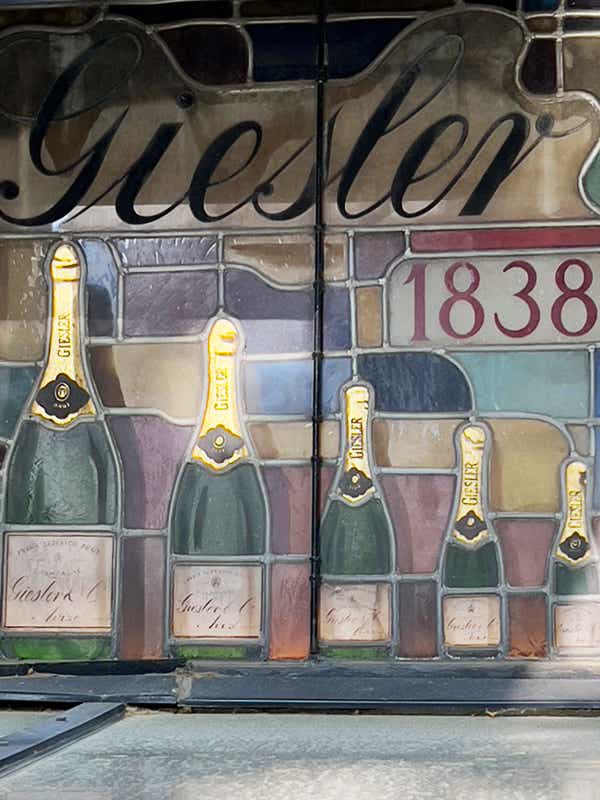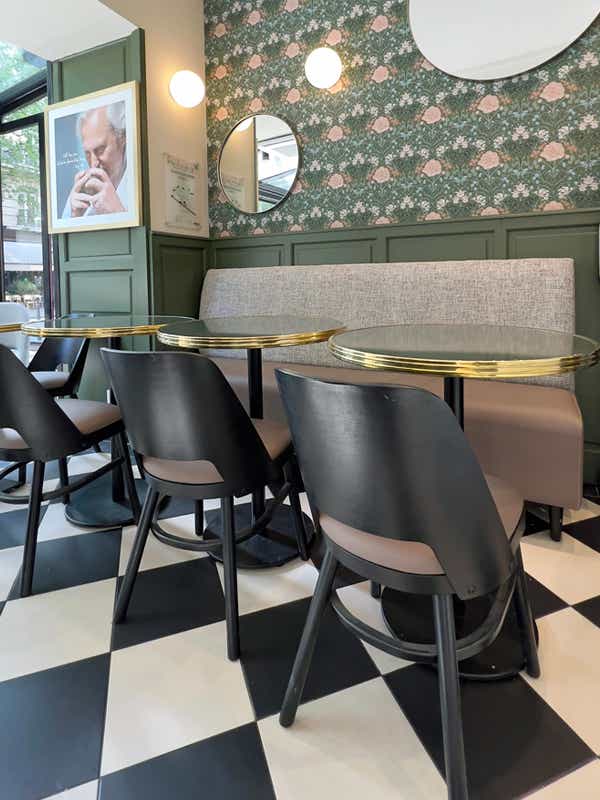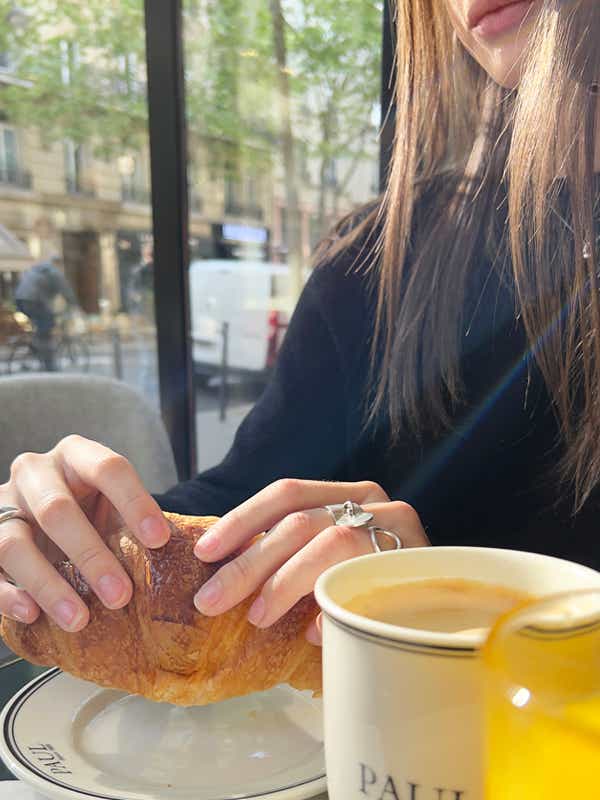 2001 – 2021: PAUL Roosevelt celebrates 20 years of beauty
20 years later, this branch of PAUL has become one of the oldest businesses in the district, taking on a whole new lease of life. It has embraced its origins more than ever, but also takes care to emphasise its Parisian home: a bright veranda, soft benches and comfortable armchairs; wallpaper painted with flowers in the style of the Haussmanian apartments of the past, as well as more contemporary, stylish mirrors. So many new details that have come to highlight the memory of this unique location.
This is a very cosy boutique tea room where you can tuck into a hearty breakfast on its sunny covered terrace, enjoy warm, freshly-baked pastries or bite into the famous 'baguette' sandwiches to which Parisian bakers have the secret. And if this enchanting salon hasn't served champagne and other alcohol for many years, you would be wise to explore the wide range of coffees, both hot and iced, on offer at the counter. Probably a more sensible choice before bracing yourself for a day at the office or a tour of the neighbourhood . . .
One last important detail: a few joyful green hues have come to give colour to this revitalised location. Everyone is free to interpret this as they will! For some, it's a reference to the famous street signs of Paris and its street furniture. For others, it represents an echo of the colour of 'budding wheat', so dear to the hearts of our bakers. But one thing is certain: beyond the new colour of its sculpted woodwork, the shop has 'turned green' by equipping itself with a new generation of display cases, that reduce energy consumption by between 15 and 20%.
And so we have beauty, good things and goodness in this shop filled with Parisian charm, that has reinvented itself once more, to give you an even warmer welcome! So Benvenuto and Bienvenu from PAUL Franklin Roosevelt.
PAUL Franklin D Roosevelt
49bis, Avenue Franklin Roosevelt (Angle rue de Ponthieu) 75008 PARIS
Métro… Franklin Roosevelt ! (« Rond Point des Champs Elysées »)