Chocarne-Moreau – painter of the 'small' tradesmen
Born in 1855 in Dijon into a family of painters and sculptors, Paul Chocarne studied at the École des Beaux-Arts in Paris. He started to exhibit his work and take part in 'salons' very early, from 1882. From then on, he called himself Chocarne-Moreau, and is best known as a 'genre painter', and most notably for his representations of scenes from everyday life of the children of the working classes, at work and play.
Very quickly he became known for his sketches depicting slices of daily life in Paris, featuring, for example, a whole group of teasing children, playful schoolchildren or impertinent choirboys, facetious little chimney sweeps, cooks, young apprentice pastry chefs or bakers!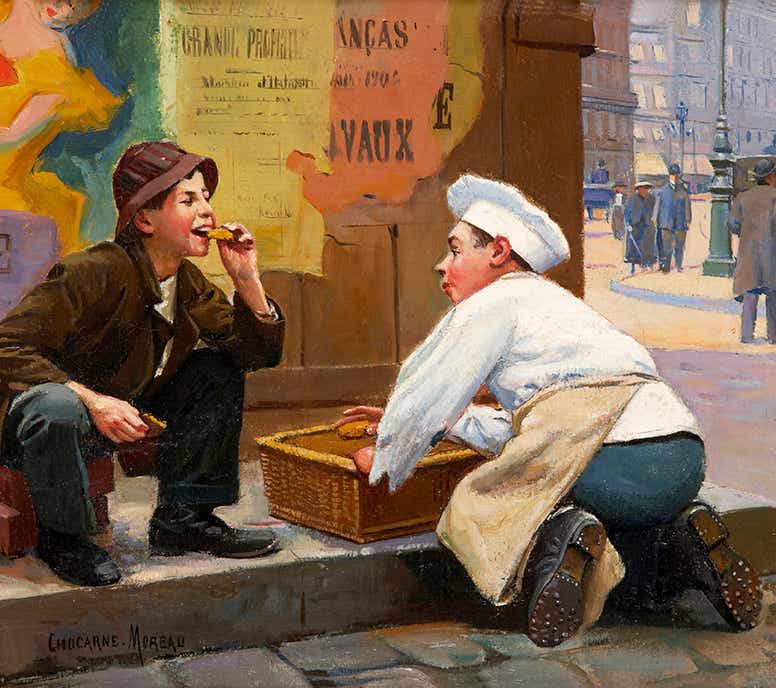 At the heart of many of his paintings, sometimes tender, sometimes mischievous, are scenes such as the rivalry between the sad 'white clown' (clown blanc) and the happy but clumsy 'red clown' (l'Auguste), or the complicity - or bickering - between the young chimney sweeps, black with soot, and the little pastry chefs with their immaculate outfits, as white as flour. These are paintings that you will have come across adorning the walls of one (or some) ?? of our restaurants or tea rooms – of which more later!
Chocarne-Moreau's paintings are so full of life, capturing games such as cat and mouse where a little chimney sweep steals a few rolls or Viennoiseries from an apprentice pastry chef who is sometimes dreamy and sometimes awkward. In some scenes, the two friends feast together. Always, these scenes portray an endearing mix of gluttony and playfulness.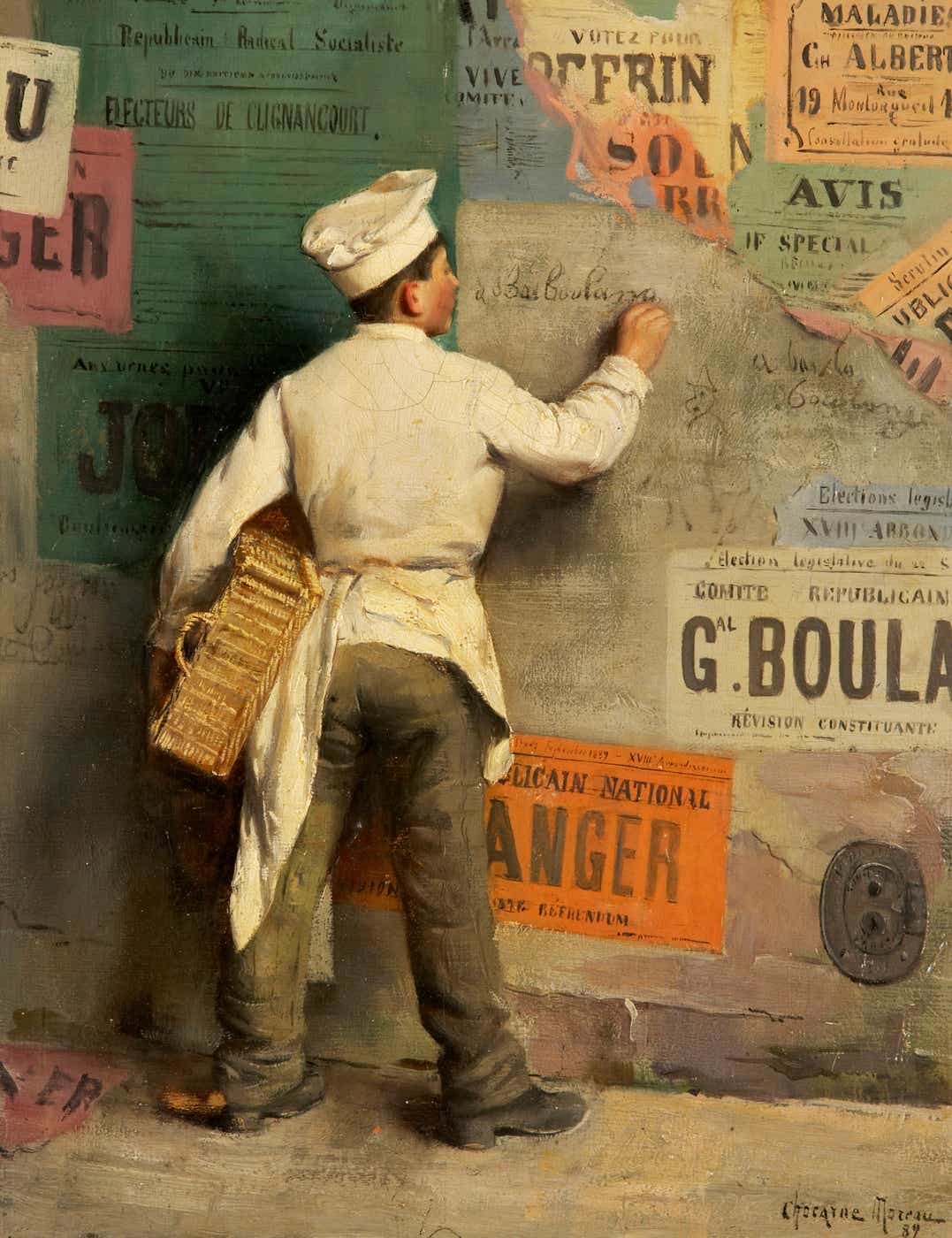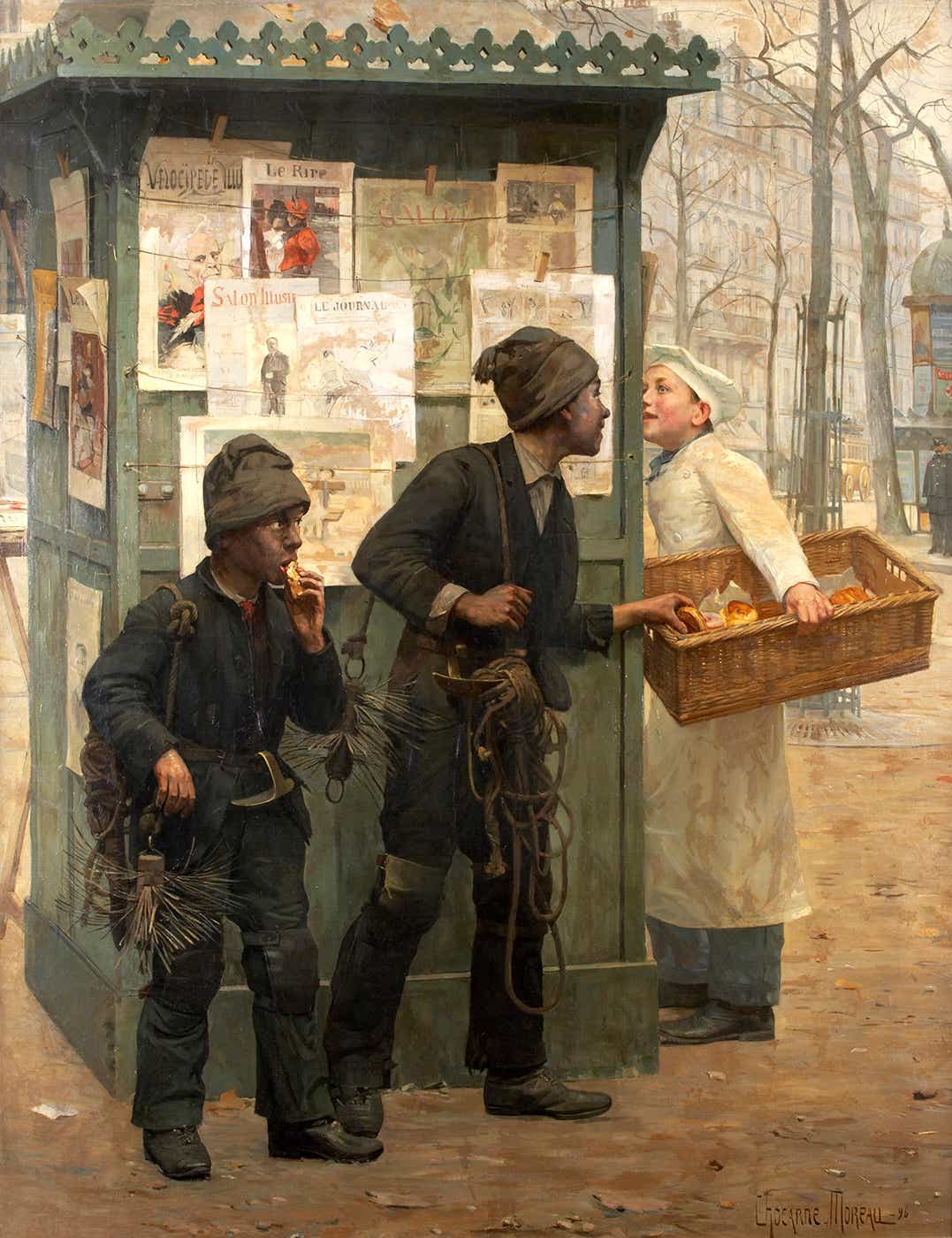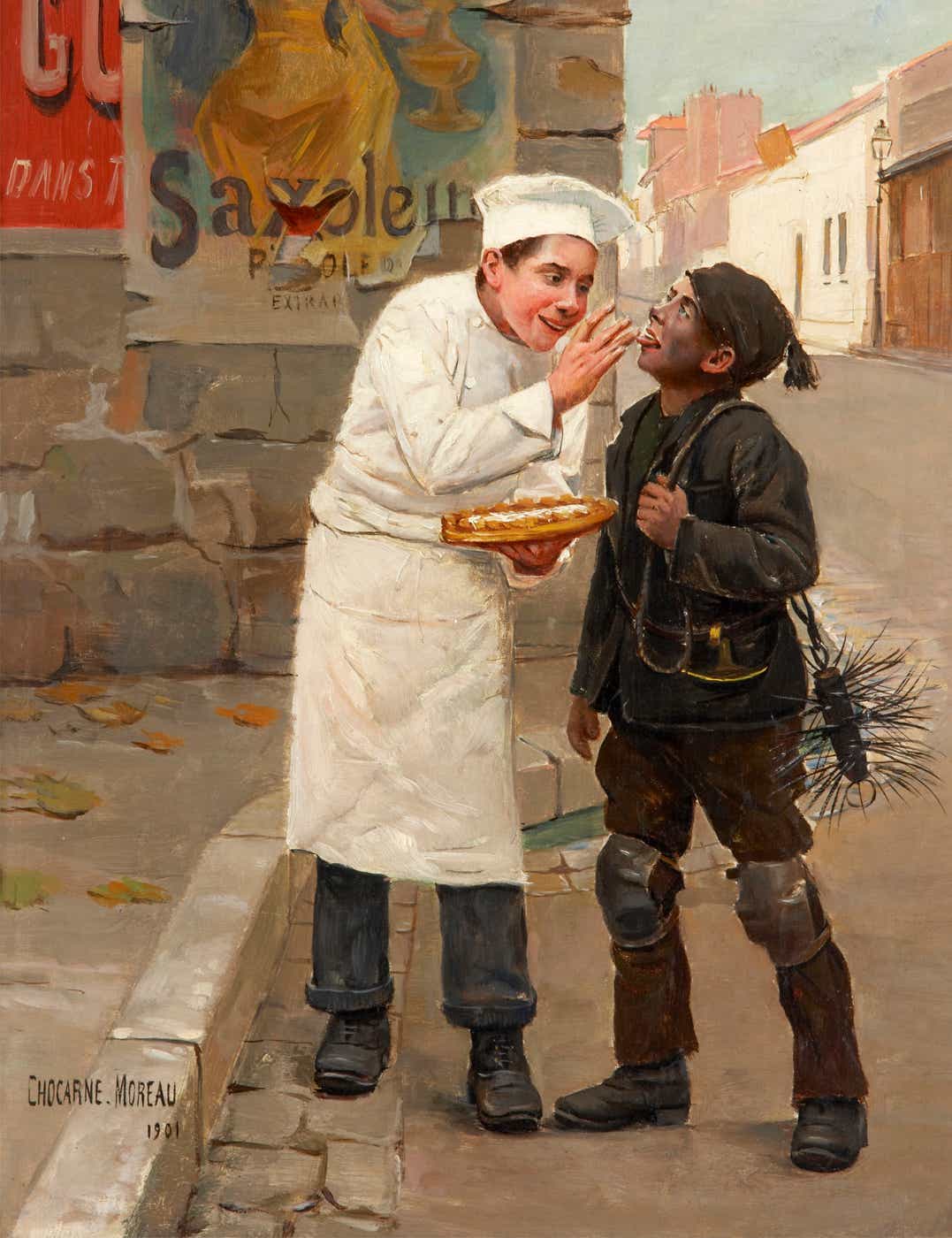 And where is PAUL in all this?
Francis Holder, the founder of PAUL, is passionate about art, antiques and bric-à-brac. He was quick to notice and develop an affection for these hugely popular images, widely distributed from the outset as little paintings, or as chromolithographs and even as publicity images or, as it this was already called then, advertising. He set out to collect them. Naturally it followed that he decided to use them to decorate the walls of his shops and tea rooms. After all, it's true that our first family bakery was created in 1889, at exactly the time that Chocarne-Moreau was becoming established.
As for our famous work uniforms, with the white jacket, white apron and classic 'charlotte' chef's hat, it's true that they are not exact copies of Chocarne-Moreau's works. This is the traditional attire of bakers and pastry chefs. But you have to admit, you can spot the resemblance – and our nod in the direction of Chocarne-Moreau's work - immediately!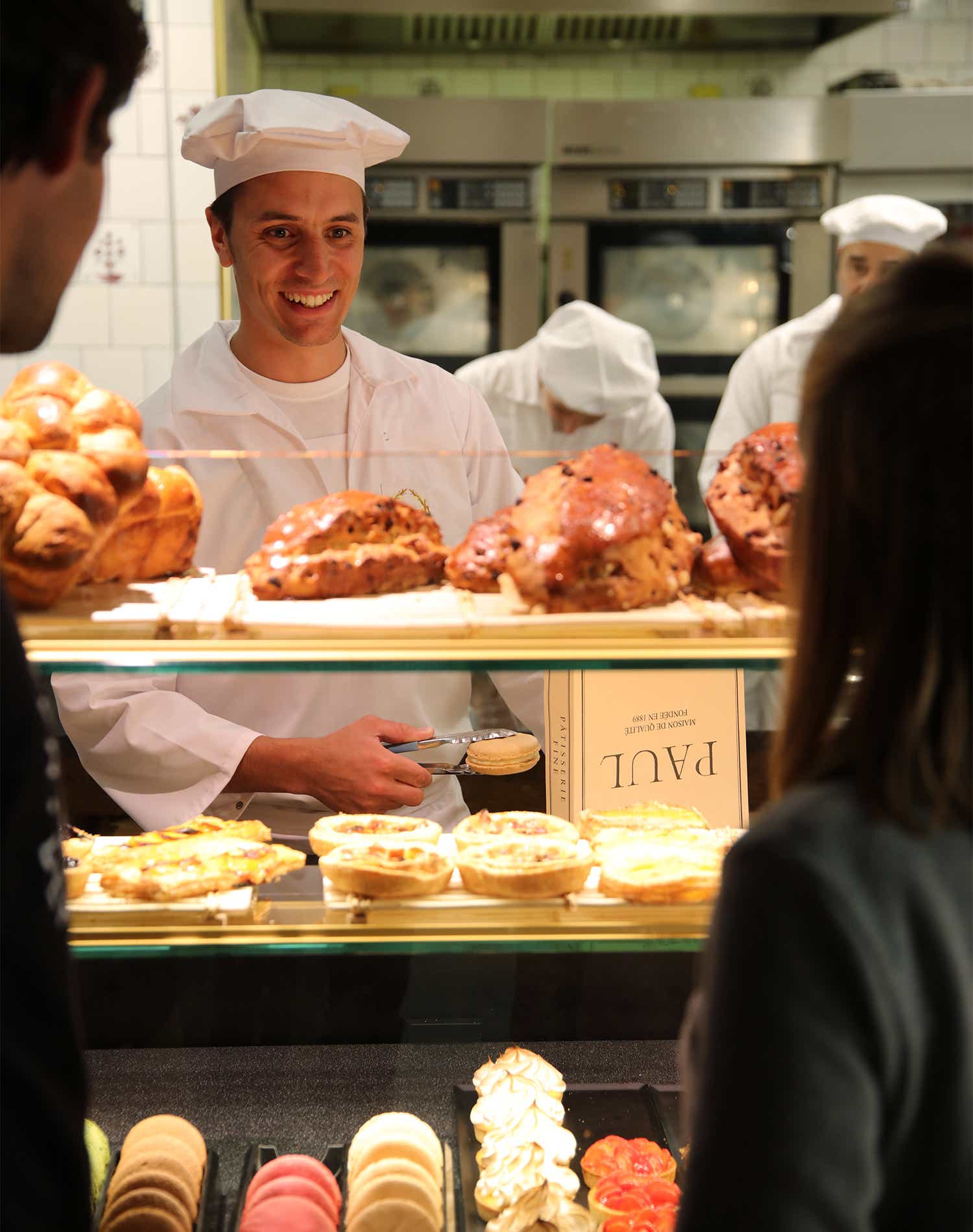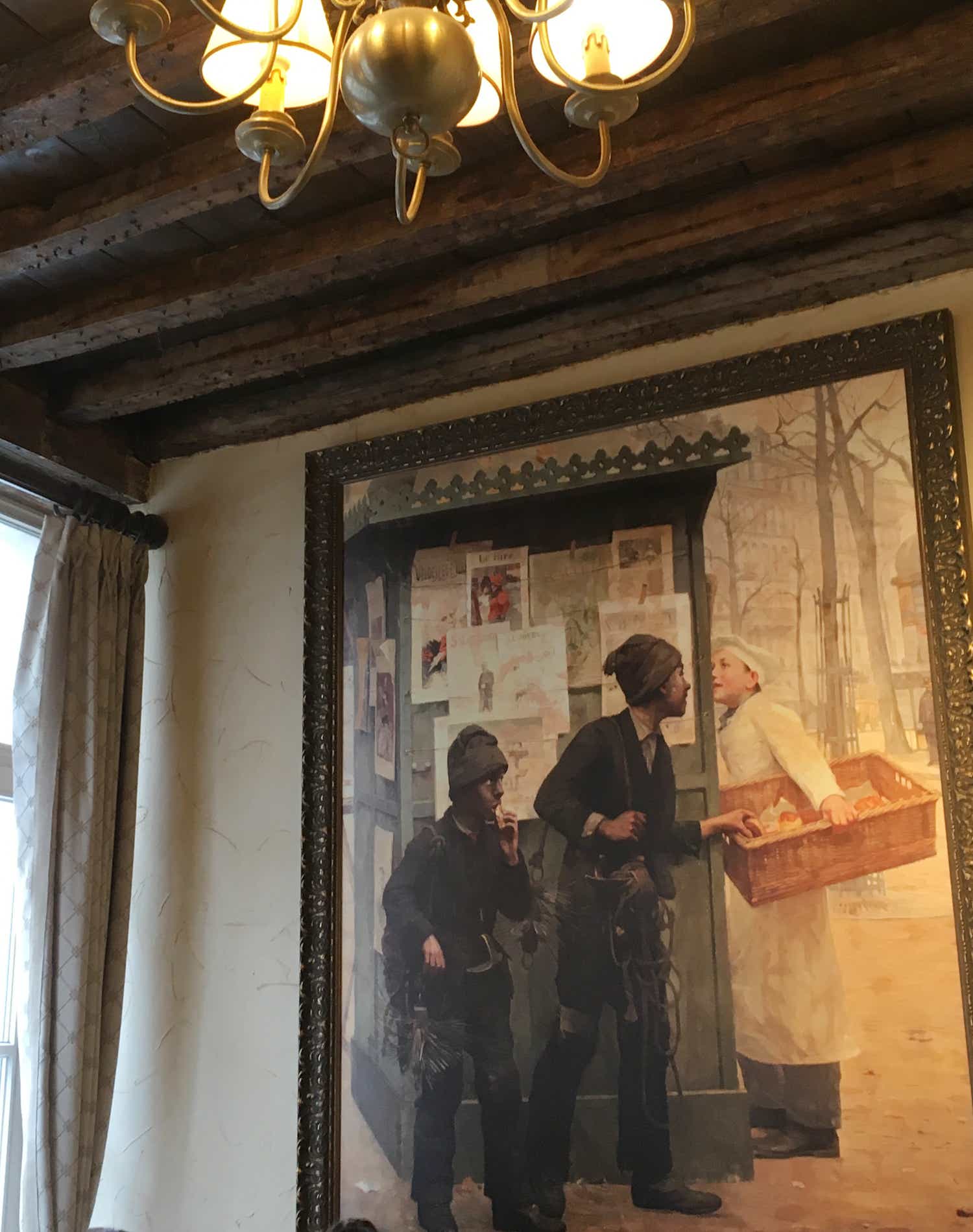 We would be astonished today to realise just how young the working class children in Chocarne-Moreau's paintings actually were. Remember that children's education only became compulsory with the Jules Ferry act of 28th March 1882. Until then, it was only compulsory until the age of 13!